Welcome
Located in Paterson, NJ since 1987, Alden Leifer, MD and Associates has developed into one of the finest and most outstanding eye care centers in the Bergen-Passaic area. Our physicians have trained at the most prestigious institutions and maintain their expertise so that each patient receives the highest quality, personalized care.
Our goal is for you to see great till 98!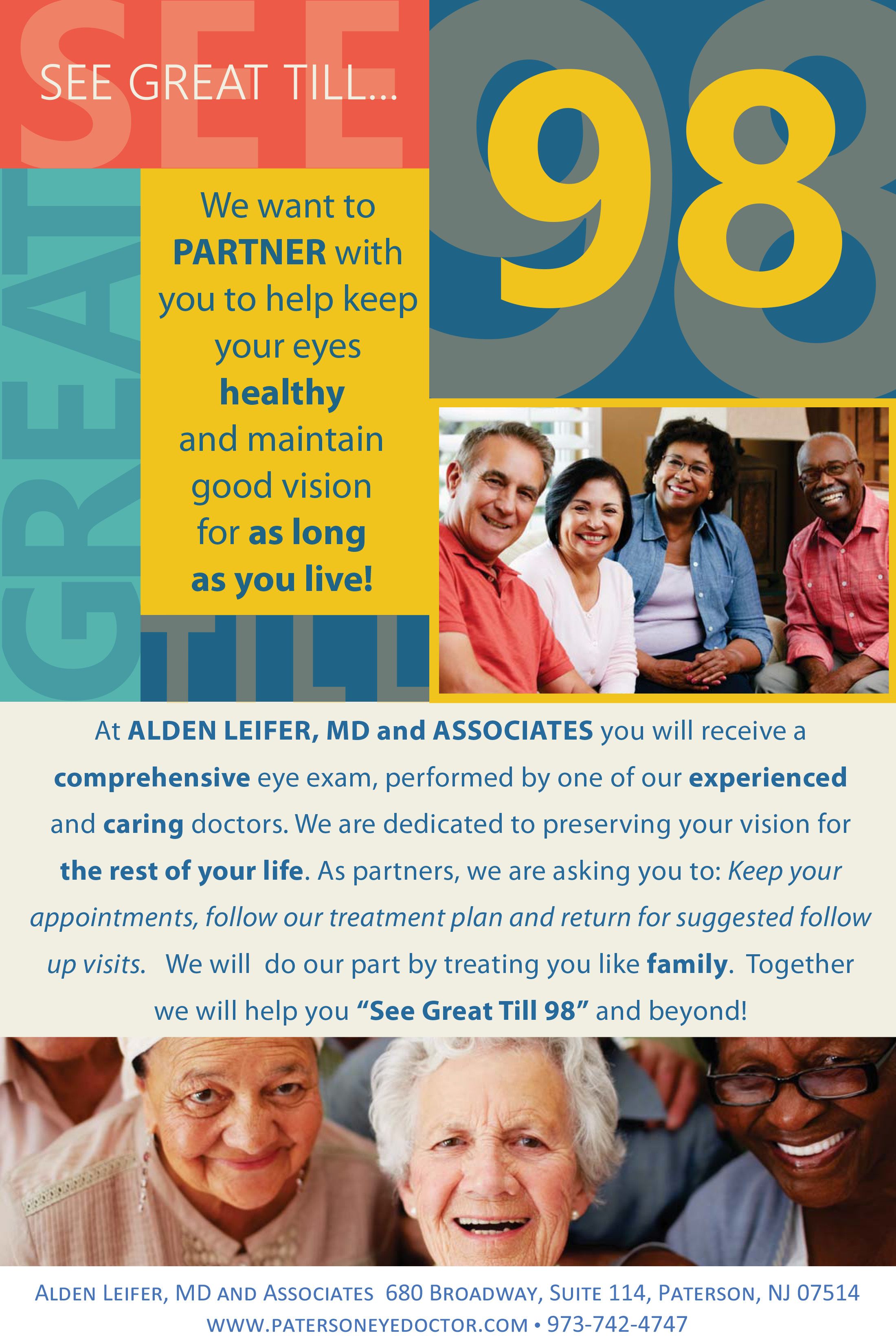 We can assist you with your total eye care to include routine eye care, glaucoma care and treatment, diabetes, cataract management and surgery, including premium lens implantation for management of astigmatism and presbyopia and a whole host of other conditions such as injuries, infections, or corneal and eyelid problems. Furthermore, we can take care of all your contact lens needs, including specialty lenses such as toric, multifocal and lenses for keratoconus.
Alden Leifer, MD and Associates has built its reputation upon delivering the highest quality medical and surgical outcomes provided by a team of professional, ethical, and compassionate doctors and staff. We pride ourselves on keeping up with the newest and best technology available. Time is spent with each patient to allow for understandable and complete explanations of all conditions. The practice environment is specifically designed to ensure patient comfort, warmth, and privacy. The focus and indeed the very philosophy of this practice is based upon total patient care, ensuring that your experience at Alden Leifer, MD and Associates is even better than what you thought possible.
Allow us to show you what makes your experience at Alden Leifer, MD and Associates so very different and special. Our mission is to help our family of patients see great till 98.
Some of the services we provide include:
Comprehensive Eye Examinations for Adults and Children
Cataract Surgery: Modern Stitchless Technique - Premium Lens Implants Available
Glaucoma Diagnosis and Management
Diabetic Eyecare
Dry Eye Diagnosis and Treatment

NEW!!

Laser Vitreolysis - the elimination of bothersome floaters using the latest state-of-the-art YAG laser

Hard to fit Contact Lenses: Toric, Mutifocal and for Keratoconus patients
A Large Selection of Eyeglasses... Budget through Designer
As dedicated eye care professionals, we recognize the trust our patients place in us and it is our mission to meet and exceed those expectations. If you would like to make an appointment or have any questions, please call us at the number listed above. We look forward to building a relationship with you as your lifelong eye care provider.
- Click Register (First time users)
- Fill out Registration
- Use password 1234
- Login
- View document
Comprehensive Eye Exams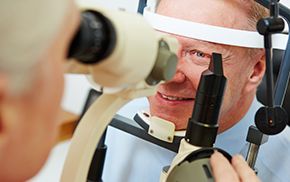 Regular eye exams are an invaluable tool in maintaining healthy eyes by detecting and preventing disease.
Read More
Eye to Eye Optical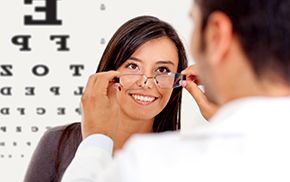 Our wonderful licensed optician, Desiree, services all our patients' eyewear needs.

Read More